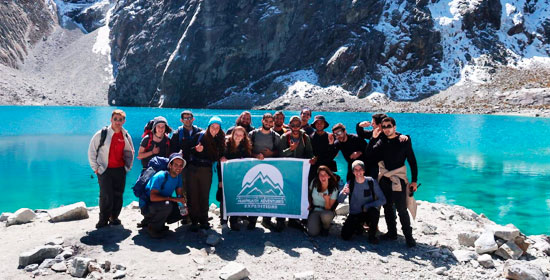 Huayhuash Adventures
We are a travel agency with a lot of experience. We bring with us an ample understanding that will guarantee an efficient service in trekking, mountaineering, conventional excursion, adventure sports and other activities in the tourism sector, as well as in the Cordillera Blanca and the Cordillera Negra.
Furthermore, all the programs and activities that we offer are focused on and oriented toward those who like to have fun coexisting with nature. These are adventures that dramatize different dimensions of nature that taken as a whole will make for an unforgettable experience.
Nous sommes une agence de voyage avec beaucoup d'expériences, et avec une large connaissance qui vous garantira un service efficace en trekking, alpinisme, excursions conventionnelles, sports d'aventure et autres activités dans le secteur touristique, tout cela dans la Cordillère Blanche et Noire. De plus, tous les programmes et activités que nous vous offrons sont concentrés et orientés à ceux qui aiment s'amuser et coexister avec la nature. Ce sont des aventures qui touchent différentes dimensions de la nature, qui, prit dans son ensemble, va faire que l'expérience sera inoubliable.